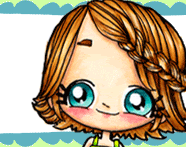 Yes...you're reading it correctly!! I've officially been asked to join the
Odd Girl Design
Team for the next term!! WOO HOO! I'm so crazy excited!! I've been holding it in for a bit now and it's been killing me! LOL! I'm honored to be chosen among such wonderful talent. Kristy has both amazing digital and acrylic stamps. Her images are sweet, sassy and oh so fun! To celebrate this exciting announcement I've created a card, using
Suave Kody
, that I tucked into my son's lunchbox today.
I used a mish mash of papers from a scrap box that I've been trying to get through as I have no more room in all of my color coordinated scrap drawers! (gasp!) I have paper pieced his outfit and shoes. He is colored with Copics which I did before piecing his clothing. My sentiment on the front is from the acrylic
Lovey Tobie
set.
I also finished the interior using three hearts from
Lovey Tobey
and
Nutsy Kaylee
.
Once again, I am just thrilled to be an Odd Girl!!
Thanks for coming by today!
Crafty Hugs!
Meredith